Reopening During COVID-19
Important information to know before you book and attend your appointment – read right to the bottom.
---
We are open again!!! We have limited availability during December, so please get in contact asap to avoid disappointment! Our online shop is running as usual for any stocking fillers you may require, and we are offering an alternative gift voucher service this year to protect our customers from COVID financial issues (see below).
---
Alternative Gift Voucher Service
Due to so many businesses going bust during, and as a result of COVID, we do not want to put our customers in a position where they have spent money on a gift voucher and for them and the recipient to end up out of pocket, if we are unable to continue trading. Although there is no sign of that happening any time soon, we want to think ahead and protect our paying customers. So, although we will not be selling gift vouchers at the moment, you are still able to treat a loved one to a treatment with us, using our alternative gift voucher service. Should you wish to treat a loved one, simply contact us telling us who you would like to treat and how much you would like to treat them to, we will record this on our usual gift voucher record system, then when your loved one makes an appointment to redeem their treat, we will contact to you make payment. Same service just a different system. We do hope you all understand that this has been done for the best interests and financial protection of you, the paying customer, and we hope that you use this alternative service just as much as our original gift vouchers.
---
Important COVID-19 Information
Face Coverings, now compulsory under English Law, to be worn in beauty salons – You will now have to wear a face covering (mask and/or visor) when attending your appointment with us. Should you have a medical reason for not being able to wear a mask, please make sure you wear a visor instead. Your face covering must be worn before entering the salon. Anyone coming in for a massage treatment will be exempt from wearing a face covering during parts of the treatment itself (so that you can actually breathe!), but a face covering must be worn until you are told to remove it.
Latest Update Thursday 17th September 2020: Please find below (in green) all the treatments we will once again be able to provide, and in red all that we won't. Please read our full explanation on our restricted treatments HERE.
Microblading

Eyebrow Treatments

Eyelash Treatments

Facial Waxing

Facials & Advanced Facial Treatments

Scalp, and our usual neck & shoulder massage that requires you to lay on your back.

Facial Massage
Below are the guidelines set out for us to reopen safely:
We will only operate with one therapist each day and we will only have one client in the building at a time (you must arrive alone unless you are accompanying a minor for their treatment).
Our therapists will wear PPE which includes: aprons, gloves, face masks and face visors.
We will clean the salon fully after every single client and a cleaning chart will clearly be displayed to show this.
---
Along with your usual record card, you will be required to fill in a separate COVID-19 declaration.
We will be operating a contact tracing system for all clients.
We will be operating a check list system to confirm your booking.
---
We will ask you to wait in your car (or outside if you have not driven to us) until we advise you to come in the salon, in case we are still cleaning and to ensure we do not cross over clients.
We will be unable to offer refreshments in salon at the moment, but please feel free to bring your own.
Card, Apple & Android Pay payments are preferable, but we will accept cash if that is your only means to pay.
Should you be displaying symptoms of, or relating to, COVID-19, or you have been in contact with anyone confirmed to have COVID-19, or if anyone in your house is self isolating, you must not attend your appointment, and you must inform us you cannot attend asap.
---
Our 48 hour cancellation policy remains in place, so please make sure if you are unable to attend your appointment you let us know with at least 48 hours notice.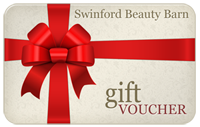 We will have to restrict the amount of gift vouchers redeemed in any one day to one only, whilst we are getting back on our feet, we do hope you all understand this. Please state when booking that you wish to pay using a Swinford Beauty Barn Gift Voucher.
---
For our new opening times please click HERE. Should you have any questions after reading this, then please do get in contact. We really appreciate you sticking with us and waiting so patiently and we can't wait to see you all again!